Dr Chris Jenner
MB BS, FRCA, FFPMRCA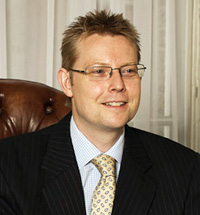 Dr Chris Jenner is our leading Pain Consultant at The Fibro Clinic. With expertise in treating over 90 different pain conditions and detailed research from around the world, Dr Jenner has developed a variety of medical treatments for Fibromyalgia. It is his belief that with the right combination of medication and complementary treatment — patients can see incredible results, and the symptoms of FMS/ME can often be reduced dramatically.
With numerous years of experience, and extensive training in anaesthesia for a host of different problems, (particularly musculoskeletal pain and neuropathic pain) — Dr Jenner is known as the go-to doctor for pain.
Dr Jenner qualified in medicine in 1995 from the London Hospital Medical College and has since held a number of key posts throughout London. These include Specialist Registrar (SpR) in Anaesthesia and Intensive Care and Senior House Officer (SHO) in Anaesthesia and Intensive Care at St Bartholomew's and The Royal London and Homerton Hospitals. In 2001 he became a Fellow of the Royal College of Anaesthetists and in 2008 he gained certification as a Fellow of Faculty of Pain Medicine at the Royal College of Anaesthetists. He also practised as a Consultant in Anaesthesia and Pain Medicine at St Mary's Hospital from 2004 to 2012.
As a leader in his field, Dr Jenner is regularly called upon to appear as an expert witness in medicolegal disputes. He has active membership to the Association of Medicolegal Doctors (AMLED), Medical Experts Online (Sweet and Maxwell) and the Society of Expert Witnesses.
A dedicated and compassionate consultant, Dr Jenner has the knowledge and expertise to treat even the most obscure of pain conditions.